Home | Learn more | Bands | FAQ | Contact Us
Tutors
Details of all your music program tutors are at your fingertips!
New tutors can be added in moments, or you can upload tutor details from a spreadsheet.
From the Tutor List call or email any tutor in one step. Managing your music program is so much easier when you can send emails to tutors with one touch. Additionally, you can export a teaching schedule for one or all tutors.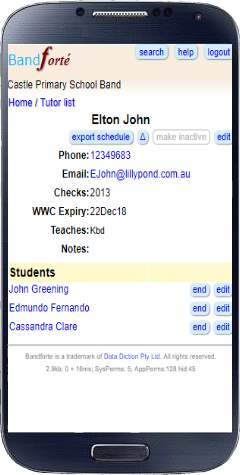 Click on any tutor name to view full details for that Tutor, their contact details, instrument and any comments on that tutor. There is also a list of their students where you can quickly access the student record or Edit the tutor/student arrangements such as meeting time.

A key feature is maintenance of Working with Children Checks on that Tutor Record. If the WWC is out of date this is highlighted on the Tutor List.

---