Home | Learn more | Bands | FAQ | Contact Us
Instruments
Managing your instruments will be a lot easier with Bandforte.
Whether you're at a rehearsal or tutorial or on the train you can see who has what instrument, when the loan was made, the instrument condition.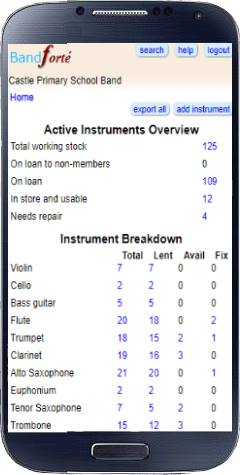 The
Instruments Overview
shows at a glance:
how many of each type of instrument you have,

those available

those on loan

those requiring repair.

From the Instruments Overview click on any highlighted number to navigate to a breakdown by Instrument Type e.g.Trombone, detailing all 15 instruments.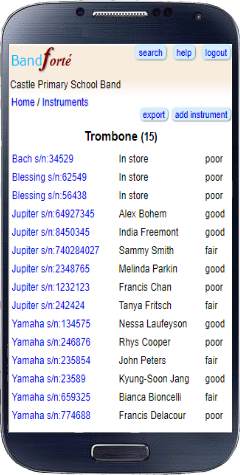 From here you can select any instrument, just press instrument name to see full Instrument Details, including a service history.
Photos can be attached to the instrument record, to show instrument condition across points in time.
---