Home | Learn more | Bands | FAQ | Contact Us
Players
With Bandforte you have instant access to all Player details, and can phone or email with one touch.
There is a list of all Players provided, and lists by Group. It is simple to upload or to download selected players to spreadsheets.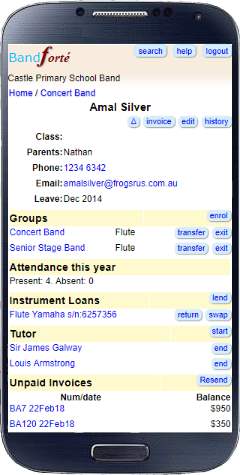 Your one- page Player summary provides
contact details



current Group

memberships




attendance



instrument Loans
tutors
invoice status
If you need to check previous details, Player History shows both current and historical information, including previous ensemble history, instrument loans and tutors.
Note that a player can be a member of one or several ensembles, and be assigned different instrument types and different tutors to reflect their involvement.

---