Home | Learn more | Bands | FAQ | Contact Us
Groups
Your music program is made up of a number of Groups or ensembles. These could range from a String Quartet to a large Concert Band. Bandforte gives you complete flexibility to add and name Groups, to move players between them, to track attendance at rehearsals and to maintain an ensemble history.
The Bandforte home page lists your active Groups,
with the number of players. One click takes you to the Group page to see the players and to access a number of Group related
functions
.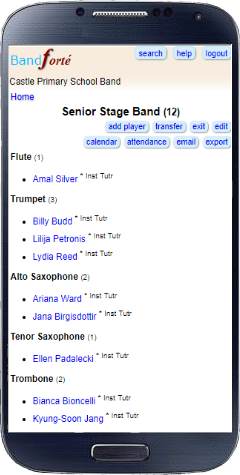 Quickly see all players on the group and easily email one or all players.
Click on any Player to go to their information
You can set up a new player
When students are moving from one ensemble to another or leaving the school, it is simple to action a single or mass transfer/exit for the selected players

Edit Ensemble details such as conductor, short name and the Ensemble fee to be used in Invoicing
See a Calendar for this ensemble

Mark the attendance roll or view previous attendance
Create a spreadsheet of Players with all their contact details
You will love being able to access and update attendance from your phone in a simple checklist format: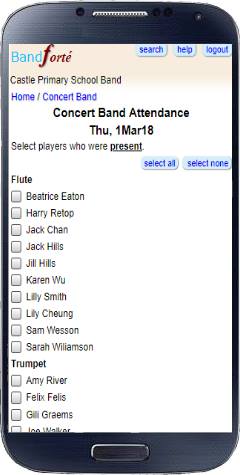 ---