Band

f

orté

FEATURES

Bandforté runs in the cloud giving you instant access to your music program. Streamline management of your school or community band program, with a fully integrated, flexible program. Supports all styles of music ensembles - bands, choirs, orchestras, jazz, zouk...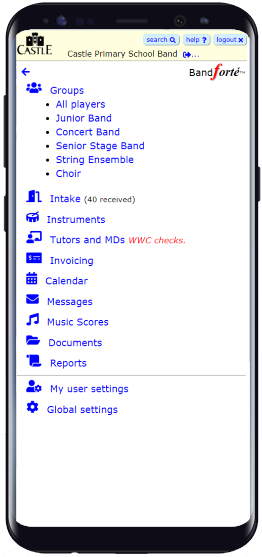 Groups
Organise groups, sections and players simply and effectively, with special features for quick and easy communications.
Portal Pages
Portal pages provide a customised summary for people associated with your music program such as parents, musical directors and tutors without requiring a password.
Instruments
Comprehensive management system for musical instruments with loans history, stocktake facility and full audit trail.
Tutors and MDs
Manage contact details, skills, Working With Children checks etc. Timetable students with tutors. Keep a directory of past MDs and tutors.
Online Intake
Streamline new band membership with online applications.
Calendar
A fully integrated calendar to manager rehearsals, rosters and special events, customised calendars can be shared and synchronised via iCal.
Music Scores
Keep track of your music library. Manage loans to bands. Link to videos or audio streams.
Invoicing
Simplify generation of invoices and tracking of payments, for membership, tutor fees and instrument hire.
Communication
Design reusable message templates and send to band members. Control automatic notifications.
Documents
A repository of important documents or links to information. Organised into folders as you wish.
Any device
Mobile first, responsive design ensures a consistent experience across all modern smartphones, tablets, laptops or desktops. Apple (Mac or iPhone), Android and Windows supported.
Secure and Private
Data encrypted at rest and in transit. Audit trail to track changes. Daily backups kept for one month. Monthly backups kept for a year. Your data is hosted on reliable and secure Sydney based Rackspace server infrastructure.
GETTING STARTED
This page is for new schools or band organisations interested in trialing or learning more about Bandforté.
If you are a parent or player wanting to sign up to your school's band program you can login or register here.
Setting up a Bandforté account is simple, free and no obligation. Your new account will come pre-loaded with fictitious data so that you can have a play. When you are ready to go ahead we will just clear the system and you can start loading your real data.