Learn more | Bands | FAQ | Contact Us
Bandforte is a web based application which streamlines management of your school music program: bands, choirs, orchestras or any music ensembles.
It's simple to use on your phone, tablet or PC - anywhere, anytime.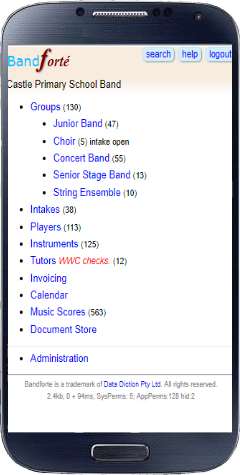 Bandforte enables band coordinators, parents, conductors and tutors to manage information seamlessly. Updates are instantly available to your team.
Update player details, band attendance, instrument loans and tutorials
Use download features to easily create listing of ensemble members, of tutors etc.
Access a register of instruments to see what is available or on loan, and to whom
Generate and track invoices
View a tailored calendar for your player, ensemble or organisation
All functions maintain a log of changes
---